Topic consacré au roman
Deceived
, écrit par Paul S. Kemp !
Il s'agit du deuxième roman se déroulant dans le contexte du jeu
The Old Republic
. L'histoire se passe en l'an -3653, et racontera notamment les évènements liés à l'attaque de Coruscant vue dans le trailer du jeu. Le personnage principal sera Darth Malgus. Ce dernier affrontera un vétéran Jedi, le roman mettra en place la situation et les trahisons entourant la dernière bataille de la Grande Guerre avant la signature du Traité de Coruscant.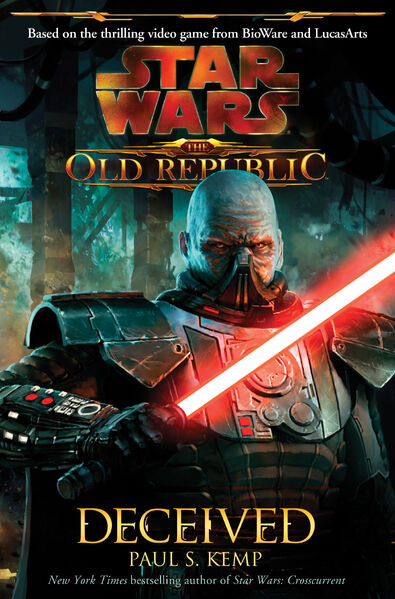 Synopsis à venir.
Il est prévu pour le 22/03/2011 au format hardcover en VO. A venir en poche VF en décembre 2011.
Dramatis Personae
:
The Core Characters :
Darth Malgus, male human Sith lord.
Eleena Daru, female Twi-lek, a trained combatant and Malgus's companion.
Aryn Leneer, female human Jedi Knight and Force Empath.
Zeerid Korr, male human smuggler, former Republic commando.
The Non-Core characters :
Master Ven Zallow, male human Jedi Master.
Darth Angral, male human Sith Lord.
Lord Adraas, male human Sith.
Extrait
: